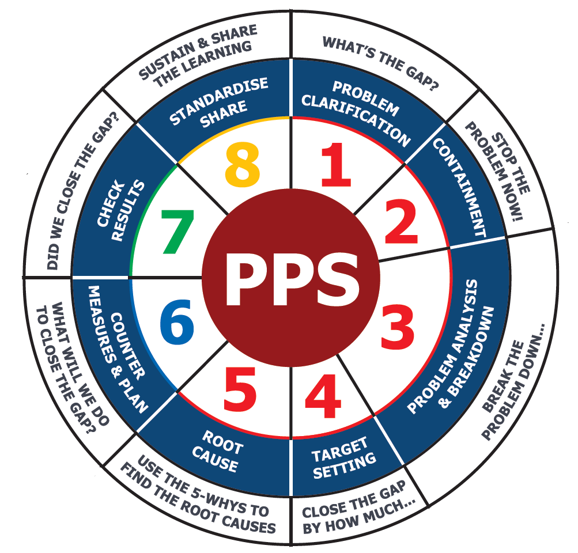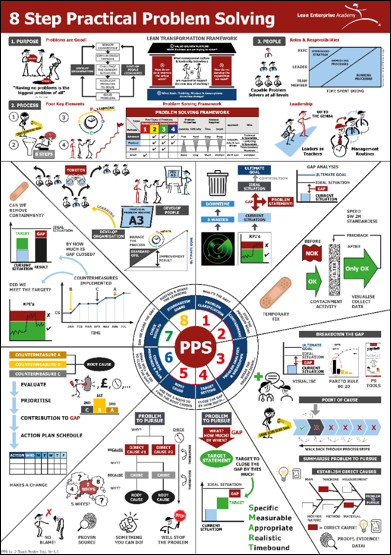 A3 Practical Problem Solving – Step 6 Countermeasures & Plan
The video is presented by Peter Watkins a Senior Coach at LEA , who explains the key points using a Visual Teach Poster.
The top half of our Teach Poster focuses on the Purpose, Process & People of Practical Problem Solving. This is covered in our FREE Skill Level 1 course on A3 Practical Problem Solving – ACCESS HERE
This blog series concentrates on the lower half of the Visual Teach Poster , which covers the 8 step method based on Toyota Business Practice.
Play the Video Overview for A3 Practical Problem Solving – Step 6 Countermeasures & Plan
Video is played best when watching in Full Screen Mode
Key Learning Points from the Video
How do you Develop Countermeasures?

Generate many different countermeasure ideas that which will address each specific Root Cause from your 5 Why Analysis in Step 5
Broadly consider all stakeholders & risks involved to develop countermeasure with highest added value
Have more than one countermeasure idea – at least 2 to 3 alternative ideas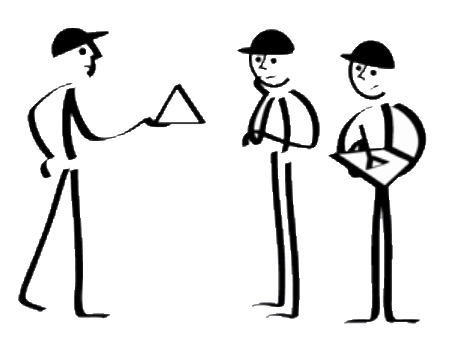 Make sure you involve, consult and inform all relevant people to develop countermeasure effectively
Countermeasure should make a Change – DO something to make a change

Evaluate all the countermeasure ideas based upon a RELEVANT criteria
e.g Risk ,Cost, Time , Quality , Effectiveness etc
Use simple evaluation scoring to help make judgement on each countermeasure idea. Add score up for overall amount

Use evaluation rating score to help prioritise each countermeasure Idea for implementation or de-selection.
Ensure countermeasure meet expected timings from target setting
Prioritisation is based on the evaluation & impact on the GAP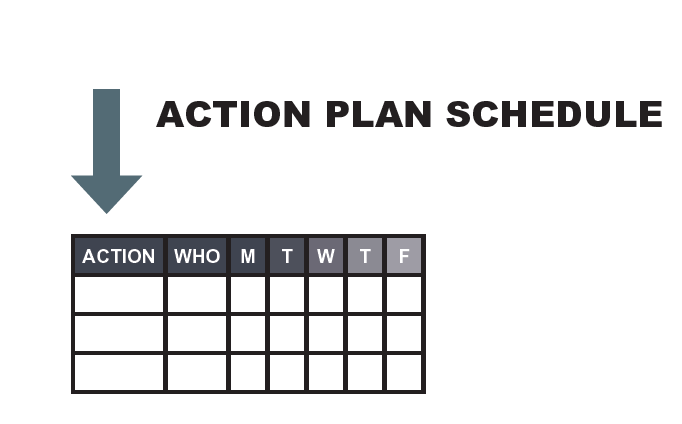 Quick implementing of countermeasures is critical after consensus building with all team members involved
Aim for days / weeks – not months to do things!
Ensure Ownership/WHO of countermeasures and
Daily/weekly PDCA of actions is done.
Meet timings set in step 4 Target Setting
Schedule Review Points in your plan as well as actions to ensure PDCA

Example of Step 6 – Countermeasures & Plan
Never give up. If you cannot achieve the expected results, try other countermeasure ideas
Ensure you follow Plan-Do-Check-Act logic when implementing countermeasures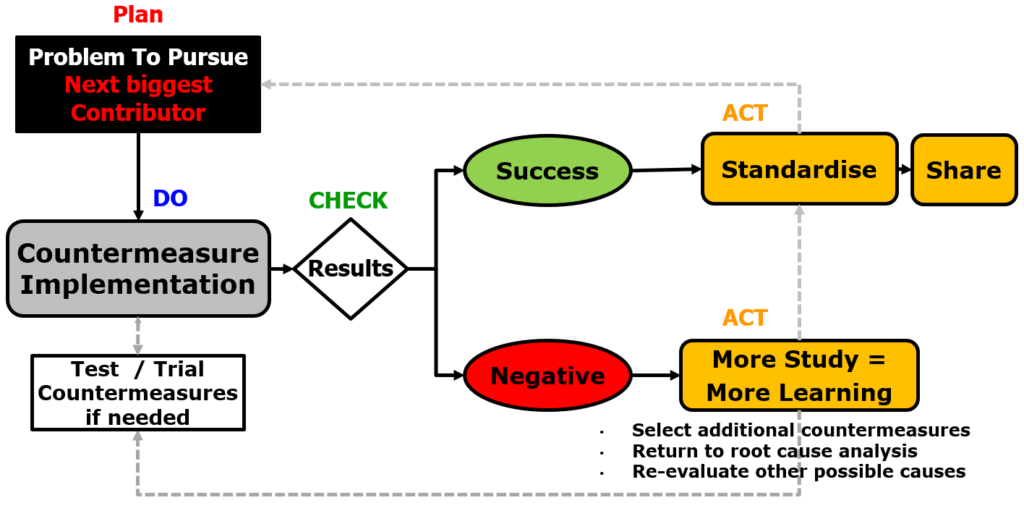 You may need to adjust them to get contribution you want
Planned trial and error is OK
Loop back in process if problem develops
Importance of the culture—keep going, don't pull the plug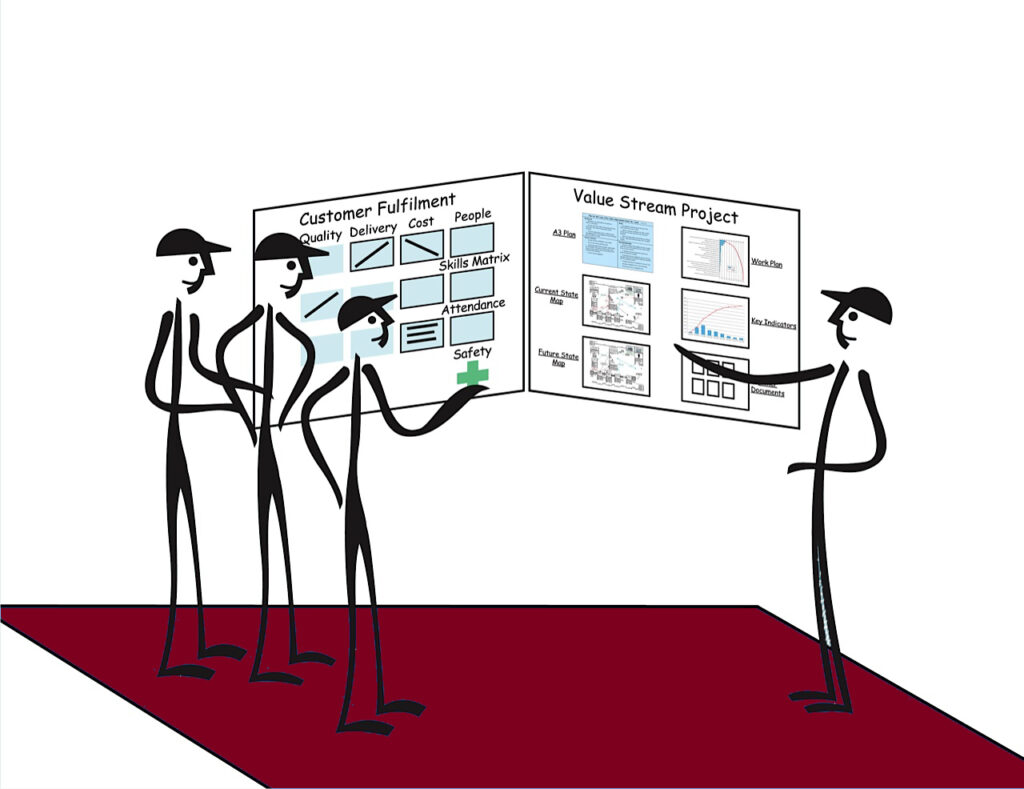 Ensure focused efforts on countermeasures
Check implementation progress regularly in visualised area with team members. Share bad news quickly and ensure contingency plans for unforeseen risks/events
"See Countermeasures through" with speedy action together as a team – Never give up and act persistently
Ensure timely reporting, informing, consulting on status of actions / plan progress. Monitor your countermeasures impact against target in step 7
A3 Practical Problem Solving – Step 6 Countermeasures & Plan
Helpful hints on this step:-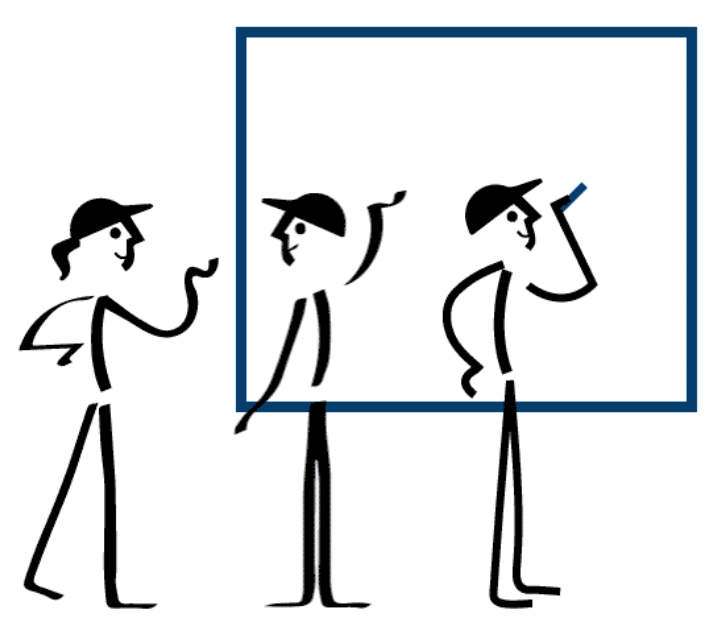 Don't get tunnel vision – by going with just the one "great" idea you think will work ! Ensure at least 2- 3 alternative ideas
Its critical to involve the right people in developing countermeasure ideas –NOT in Isolation!
Make sure you follow PDCA -Logic when developing your countermeasure. You will be doing something new to make a change – so test and trial of some countermeasure maybe needed as part of the plan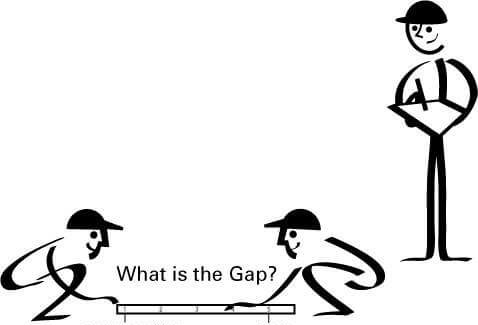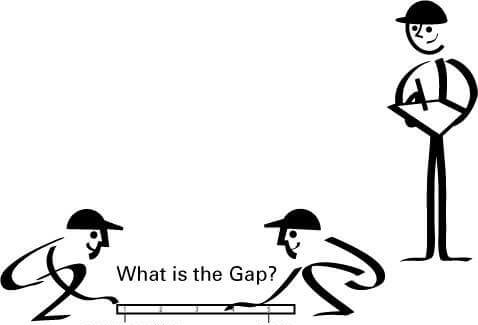 SPEED – Implement Fast
Visualise your plan achievement to make sure you know if you are behind or ahead with your actions
Countermeasure implementation schedule needs to match timing from Target Setting in step 6
Make sure your prioritise countermeasures that have impact on closing the GAP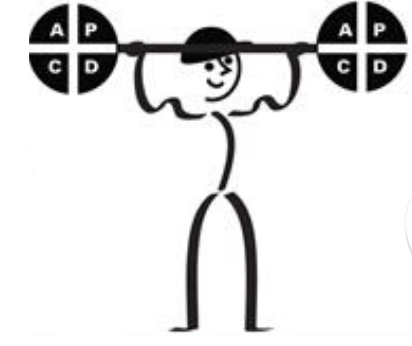 Never give up and act persistently with PDCA – Tenacity is a key trait of a good problem solving
---
A3 Practical Problem Solving – Step 6 Countermeasures & Plan
Related Courses and Recommended Reading
We have gathered together some links below for selected courses, books and articles if you want to learn more about A3 Problem Solving.