£9.99
In this course, learn about the 7 Problem Solving Tools. These are also commonly referred to as the Seven Basic Tools of Quality (or 7 QC Tools.)
Description
In this online course, learn about the 7 Problem Solving Tools, also commonly referred to as the Seven Basic Tools of Quality (or 7 QC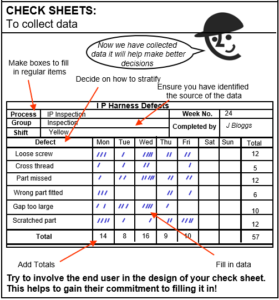 Tools) which are; Pareto Diagrams, Cause & Effect Diagrams, Graphs & Control Charts, Check Sheets, Histograms, Scatter Diagrams & Stratification. The use of these tools can be wide and varied across all industry sectors and situations.
The course is divides into 2 sections. These are as follows:
In Purpose, learn why these tools are important, what they are used for and how. We will also explain some of the benefits of using them.
For Process, we will explain the seven different types, their content and how they can be applied to different situations.
In People, understand who can make use of them and some of the behaviours recommended to get the most out of them.
In summary, the material includes 4 topics – background, purpose, process and people, an explanation of each of the 7 Problem Solving Tools and a handy trifold leaflet to download, print and keep for quick reference! Want to learn more about the range of resources we have to offer on problem solving tool? Click here.
Looking to access this course for free? We have a solution for you – our Learning Platform Subscription. Join hundreds of of satisfied lean thinkers who have developed their capability through our range of online courses, on-demand webinars, and highest quality learning materials – all in one places on our Learning Platform! And the best part? It's available to you for only £99.99/year + VAT! Learn how our learning platform subscription can help yourself and organisation learn lean better, faster & cheaper here.