Introduction to the Learning Platform Subscription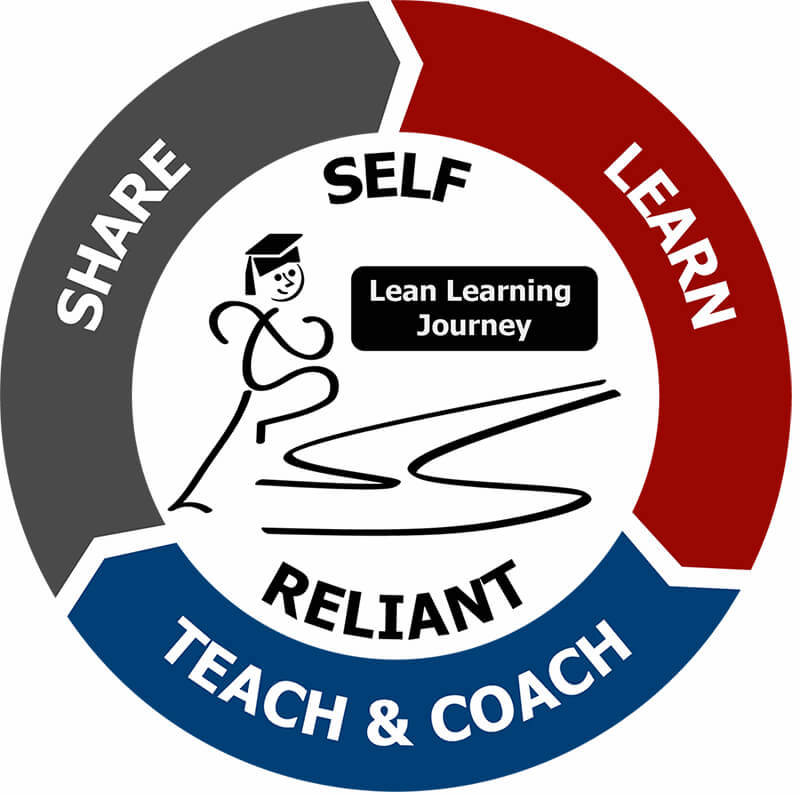 Our major goal is to provide all the learning processes and support material you need in one place to become self-reliant in applying lean thinking & practice to your situation. We are continuously researching how to learn and sustainably apply lean in the best, fastest and cheapest way possible, so you benefit as an individual or organisation.
Using our Lean Transformation Framework as a guide to implement, we are in the process of adding over 40 different lean methods & subjects to help develop your skill levels through guided learning processes that suit your situational needs. Organisations can use our learning processes and materials internally to save them time, effort and confusion when implementing lean thinking & practice.
All of the revenue made from subscription goes back into developing our learning platform and supporting materials. The more people/organisations subscribe our learning platform, the faster we can develop more learning processes and supporting materials.
---
Learning Platform Subscription – Individual
£119.99/year
Less than £10/month!
Learning Platform Subscription – Enterprise
Customised for your situational needs
Recommended for 10+ users
---
Gain Knowledge (Level 1) and Understanding (Level 2) with our Online Lean Learning Courses
We have done a lot of research to understand how to learn lean most effectively. We know from practical application that skill/capability development is best described as a journey. A guided learning path, progressing from awareness and knowledge of a subject, through understanding, being capable and finally to being able to teach and coach others.
Develop your knowledge and understanding in different lean tools and methods with our level 1 & 2 online courses and supporting learning materials included in with our learning platform subscription. Courses include teach videos and learning confirmations with quizzes! Our level 2 courses also guide you through a case study, to help you gain a deeper understanding of the subject.
---
Catch up with the latest On-Demand Webinars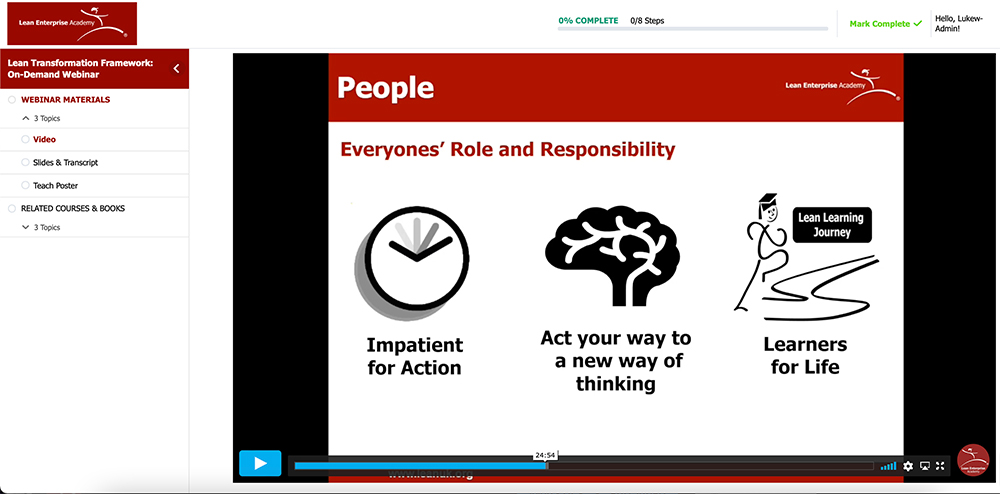 Missed one of our webinars? Our learning platform subscription lets you watch our recorded sessions anywhere at anytime. The sessions complement also complement our Skill level online courses
The materials used throughout are available to download such as teach posters, slides & transcript and the facilitation guide so you don't miss a thing! In addition, every time we run a new webinar, we record the session and make it available (with the materials) on the learning platform.
---
Be the first to know about Online and Offline Events!
As a learning platform subscriber, you'll get priority access all of our upcoming events, both online and offline. This includes:
Webinars
Summits
Learning Workshops
New Learning Platform Courses
NewLearning Materials including teach posters, workbooks and more.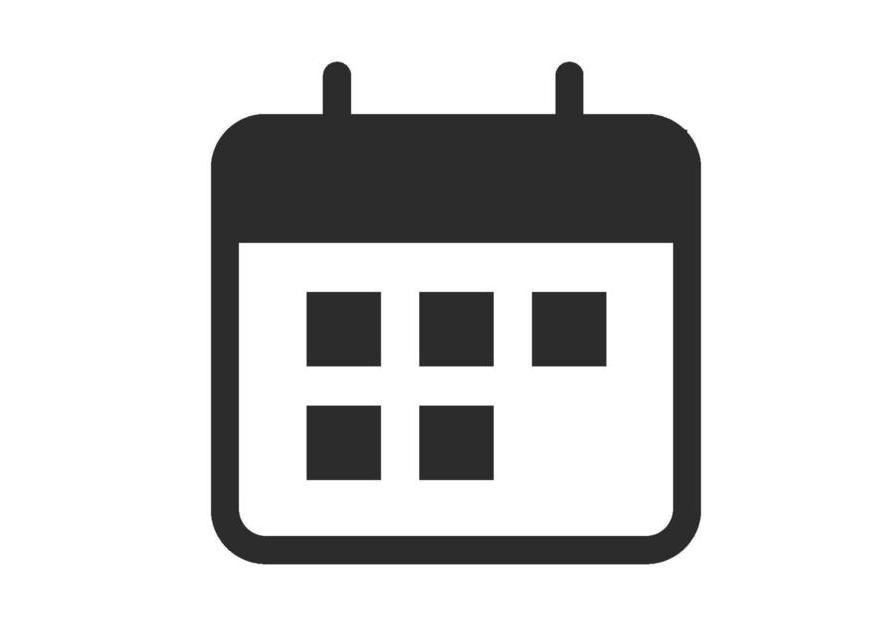 ---
Exclusive Membership to LEA Discussion Groups – Coming Soon!
---
Enterprise Subscription
Want to roll out our Learning Platform subscription within an organisation? Contact us to find out more information.
---
FAQs
What an an LEA Subscription?
We recently decided it would be beneficial to launch a service where users can access all of our online materials by paying a low yearly cost. This makes it better, faster and cheaper when helping you progress on your lean learning journey. You also will gain exclusive membership to our LEA discussion groups (coming soon) and priority access to events.
How much is the learning platform subscription?
Our learning platform subscription for an individual is £119.99 for a year. Contact us here to for more information about the Enterprise Subscription.
Do Students and Educational/Non-Profit Organisations get discount?
Yes. Students and Educational/Non-Profit Organisations receive a discounted rate of 50% on our subscription services. Students must email [email protected] with your NUS card to receive 50% off the Individual subscription for £59.99. Educational/Non-Profit Organisations must also email [email protected] to receive 50% of their subscription. Discount will be a 50% off code applied at checkout.
Subscription Agreement
Subscription
To use the our subscription you must have Internet access and a compatible browser (see HERE for minimum system requirements), and provide us with a valid Payment Method. Unless you cancel your subscription before your billing date, you authorise us to charge the subscription fee for the next billing cycle to your Payment Method (see "Cancellation of Subscription" below).
We may offer a number of subscription services. You can find specific details regarding your Subscription Service by visiting our website and clicking on the "My account" link available at the top of the pages under your profile name.
Cancellation of Subscription
Your Lean Learning Journey Subscription with us is effective until terminated by you or us. Your rights under these Terms and Conditions will terminate without our notice if you fail to comply with any term of these Terms and Conditions. Upon Cancellation, you will stop representing yourself as a registered Member or Client. You must delete or destroy any information or content (including all copies) obtained from our Website. Certain provisions of this Agreement, including, but not limited to, copyrights, indemnity, trademarks, limitation of liability, warranty, and jurisdictional issues will survive the termination of this agreement.
Payments, Recurring Payments, Fees and Refunds
You acknowledge that Lean Enterprise Academy reserves the right to charge for any portion of Lean Enterprise Academy's Services and to change its fees from time to time at its discretion. You acknowledge that Lean Enterprise Academy's online subscriptions are recurring and will automatically renew at the end of your subscription period. You may cancel your subscription at any time, and it is your responsibility to cancel your subscription by contacting Lean Enterprise Academy by email or phone before your account automatically renews. No refunds will be issued after purchase or account renewal.
To use the subscription service you must provide one or more Payment Methods. You authorise Lean Enterprise Academy to charge any Payment Method associated to your account in case your primary Payment Method is declined or no longer available to us for payment of your subscription fee. You remain responsible for any uncollected amounts. If a payment is not successfully settled, due to expiration, insufficient funds, or otherwise, and you do not cancel your account, Lean Enterprise Academy may suspend your access to the service until we have successfully charged a valid Payment Method. For some Payment Methods, the issuer may charge you certain fees, such as foreign transaction fees or other fees relating to the processing of your Payment Method. Local tax charges may vary depending on the Payment Method used. Check with your Payment Method service provider for details.
Updating Payment Methods
You can update your Payment Methods by going to the "My account" page. We may also update your Payment Methods using information provided by the payment service providers. Following any update, you authorise us to continue to charge the applicable Payment Method(s).
Billing
The membership fee for the Subscription Service will be charged to your Payment Method on the specific payment date indicated on the "My account" page. The length of your billing cycle will depend on the type of subscription that you choose when you signed up for the service. In some cases your payment date may change, for example if your Payment Method has not successfully settled, when you change your subscription plan or if your paid subscription service began on a day not contained in a given month.
Promotional Offers
We may from time to time offer special promotional offers for our subscription service ("Offers"). Offer eligibility is determined by Lean Enterprise Academy at its sole discretion and we reserve the right to revoke an Offer and put your account on hold in the event that we determine you are not eligible. Existing individuals of households or organisations with an existing subscription may not be eligible for certain introductory offers. We may use information such as account email address used with an existing or recent subscription to determine offer eligibility. The eligibility requirements and other limitations and conditions will be disclosed when you sign-up for the offer or in other communications made available to you.

Changes to the Price and Subscription Services
We may change our subscription services and the price of our service from time to time; however, any price changes or changes to your subscription services will apply no earlier than 30 days following notice to you.