The Lean Enterprise Academy is a not for profit organisation. What we do is develop and disseminate knowledge of lean thinking and lean practice.
We have worked with pioneers on all kinds of business problems, big and small, in almost every type of organisation and activity. In each case, lean thinking always helps unlock levels of performance that weren't possible through traditional management approaches.
Ongoing performance improvement is only possible if you capture and build on the knowledge gained from implementation. Therefore, what we do is to help build organisational and individual capability. Learning lean so everyone can do and improve, themselves.
We help individuals and organisations understand and use lean thinking. What we do is help define and address gaps in performance that need to be closed, developing both capability to improve the flow of value to your customers and the problem solving ability of your people so that you can sustain the gains and continuously improve.
Our unique perspective is that we continuously seek to learn what the most effective mechanisms are for transferring this lean knowledge and developing lean capability – so together we can create more value, right first time, on time, in less time.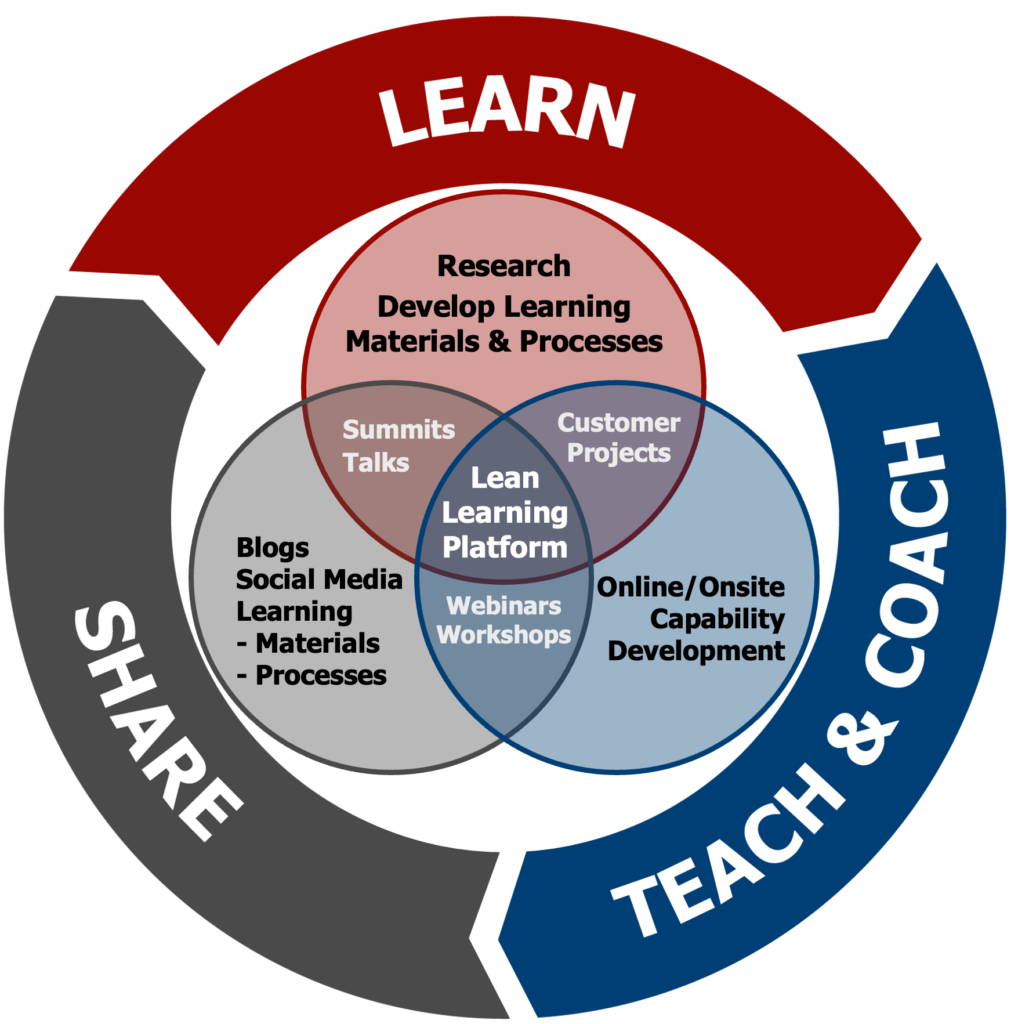 To support both our purpose and our customers our activities are structured around three core processes (we call them value streams):
Learn
We conduct action research. Here we develop hypotheses about Lean Thinking and its application. This is done in order to research what works best in the real world with organisations and individuals. The approach helps organisations build capability and a competitive advantage. Together we simultaneously close performance gaps whilst developing new knowledge of lean thinking and its application.
A key output from our research are new products and services. Throughout our history we have been instrumental in codifying the lessons learned – we brought to a wide audience the 5 Lean Thinking principles, techniques such as value stream mapping, extended value stream mapping, consumption mapping, customer fulfilment analysis, the use of A3 thinking and the Lean Transformation Framework.
Contact us to learn more how your organisation can be at the leading edge of developing Lean Thinking and Practice.
Teach & Coach
We use our action research to develop learning materials in Lean Thinking. For example, we have written and published a number of books designed to help organisations and individuals implement lean.
We design capability development processes. Initially, we organised public and in-house workshops around our core publications and research findings. More recently, we are developing teaching and coaching methods to help organisations learn, implement and become self reliant on their lean journey. Organised around the Lean Transformation Framework, they take place onsite and increasingly online as part of a blended approach.
Share
We distill the lessons learned from all our activities. Each year we reach out to our lean community to organize events such our Lean Summit as well as publishing regular web based articles, videos on the Lean Enterprise Academy YouTube channel and sharing via social media.