At our annual Summit in November 2014, Terry O'Donoghue shared the remarkable Lean transformation story happening at the Halfway Group in South Africa. I've been heavily involved with this Lean transformation since it started in 2011 and encourage you to either watch the presentation again or (if you were unable to attend) catch up with what you missed!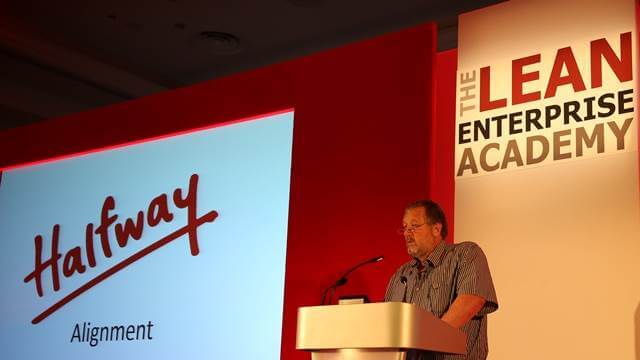 There are lots of important insights from Terry, but one that sparked discussion was that their activities use John Shook's Lean Transformation Framework – the framework the Lean Enterprise Institute in the USA, Lean Enterprise Academy and other members of the Lean Global Network are developing to guide Lean implementation. By starting with customer purpose (and then business purpose) Terry explains how the leadership team is simultaneously improving the value creating work whilst developing the people at the same time. You will hear Terry explain that his primary role as COO is to develop all 1424 people in the organization into problem solvers (1067 people when he started in the role.) To ensure that this capability is developed each manager is responsible for developing his/her team. In this Lean transformation, team member development and improvement are line management responsibilities. Problems are highlighted directly from each site's strategy with the aim that everyone is then aligned to work on the vital few issues with countermeasures being part of the daily work, embedded into the management system.
The approach at Halfway appears to have struck a chord with a number of senior managers and Lean practitioners I've spoken with recently. In both a public sector organization and a couple of multi-national manufacturing firms that I've visited Lean implementation has been very much project based – a Lean team has been trained (unfortunately most of the training I observe is still classroom based with a six sigma focus) with certificates and belts given for attendance and the completion of projects. This approach has resulted in the Lean teams having tens of improvement projects work in progress and therefore long implementation lead times from start to finish. Any improvement activity only starts after a lengthy "define and measure" phase or after a project team is set up that meets weekly (often away from the work) to discuss improvement with interim work being done by Lean team personnel.
In cases like these senior managers and members of the Lean team tell me that sustainability is challenging. They recognize the need for a couple of fundamental changes in approach. Firstly, for their Lean activity to be based upon solving the fundamental problems faced by the organization rather than improvement projects focused only on one dimension (often only cost saving.) Secondly, for their Lean team to move from being the expert problem solver – often doing Lean to people rather than with people to a role educating, coaching and supporting the line management to be able to lead and develop Lean capability themselves.
The alternative ways of implementing Lean warrants more explanation and discussion and that's why I'm delighted to announce that the theme of our 2015 Lean Summit is "Lean transformation – Developing the Capability to Improve the Work." To aid our discussions and provide content we have invited John Shook from the Lean Enterprise Institute in the US (and chief engineer and architect of our Lean transformation Model) and Dan Markovitz (also from the US and author of A Factory of One) and our own Chairman Daniel T Jones to provide insight and discussion. We have also planned a range of plenary talks and learning sessions from industry with representatives from manufacturing, healthcare, education, retailing and the internet/start up world to provide practical examples of how they are implementing Lean – including Spotify (the music streaming service) and Toyota. Full programme details will be available in the coming weeks – but I urge you that this will be an event not to be missed.
To get you ready we will be releasing some of the highlights from our 2014 Summit on our YouTube Channel. Please don't forget to take a look at Terry's Lean transformation story.