"Death by PowerPoint". Those immortal words every trainer/facilitator dreads when delegates feedback after a session. When doing "lean powerpoint" teaching how likely are they to remember anything? We have been wrestling with this problem and experimenting with a different approach to teaching and coaching and getting those delegates to quickly do the same with others. "Lean powerpoint" teaching – there may be no such thing.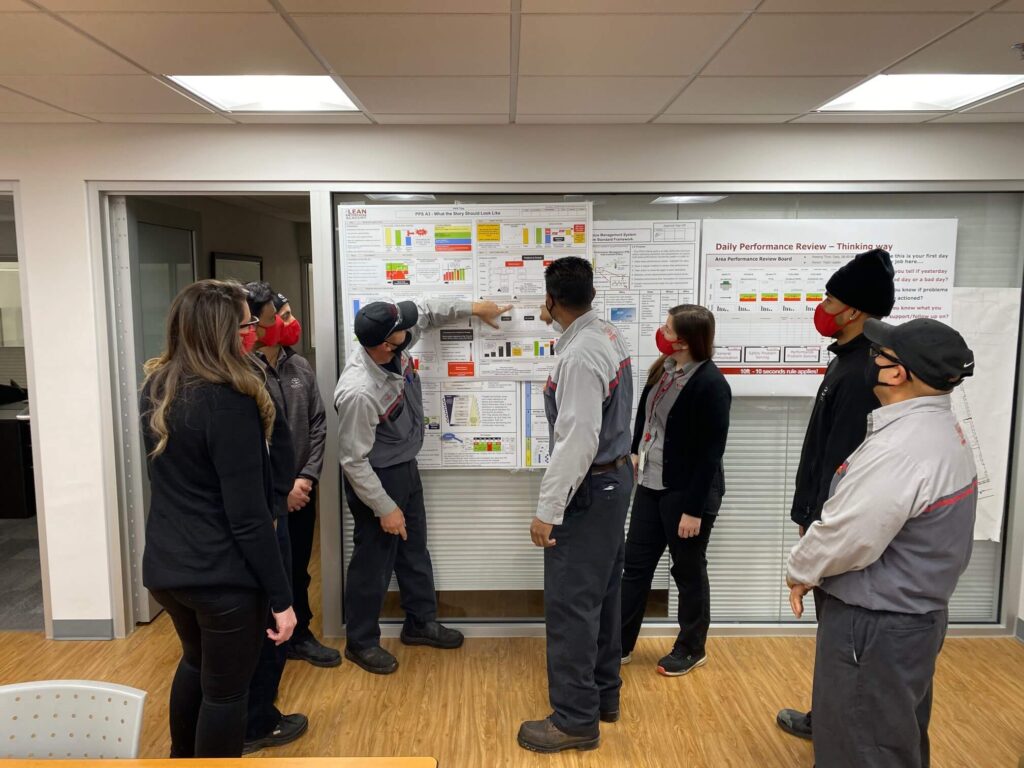 Leaders Teaching Lean
In Spear's book "The High-Velocity Edge" he describes four key capabilities successful organisations develop in their people to fast track their operational excellence activities and improvement results. One of those capabilities is "Leaders as Teachers" – getting Leaders to teach and coach their subordinates, on the job, to develop capability. There are several benefits if you can achieve this level of self-reliance:
You are not dependant on one function to cascade the learning.
Scheduling teaching activity is easier as it can be fitted in and around everyday work commitments in smaller bites.
Learning can be set at the right pace for each individual.
It is a much more powerful learning experience when it is your leader teaching you – servant leadership at its best.
Using Teach Posters
This is all well and good, providing you can get the leaders to do this. That is the challenge especially when your materials are 100-page PowerPoint presentations. After several trials, we found the best solution is to use what we call teach posters to replace the traditional slide deck. They visually represent the topic distilled down on to one piece of paper – rather like an A3. Simple images rather than text convey the thinking and concepts. This helps breed familiarity and confidence for both the teacher and the pupils. It also makes translations into other languages quicker and easier which can be a challenge for global organisations.
Sections in the poster simplify the structure and provide a sequence or flow to follow when reviewing. The upper section explains the purpose, process and people element of the subject. "Purpose" positions the subject and why it is important, "process", the conditions and considerations required to apply it and "people", the behaviours and skills necessary. The lower portion deals with how to do (or the method to apply.) It is organised into manageable steps.
Using the posters is very much a low-tech high involvement activity. Each is ideally A0 size (33" x 47".) Delegates stand around them while discussing the concepts. Teams engage and focus when they stand and this enables teaching in short bursts. The team leader follows a facilitation guide and script. By combining the teach with a practical activity or case study prevents fatigue and maintains interest but more importantly embeds the learning as you learn by doing.
Key Advantages when teaching lean
Using this style and approach we have found that leaders are willing to teach others either in a class or on a one-to-one basis. As the story is laid out in front of the teacher on the poster it is much less daunting than a long slide deck. Also, you do not need any specialised equipment other than a wall and some space to review and discuss it. This makes it easier when cascading it through the organisation at the gemba, for example. The facilitation guide is simple to follow covering important steps, key points, and reasons for each of the images. This helps get the message across. Interestingly, after running the sessions we found that some of the delegates wanted to take the posters back to their own workplaces immediately to use as a visual prompt and discuss with their teams – something we've never experienced with a PowerPoint presentation!
Teach Posters Face to Face and Online
At LEA we are using the poster approach rather than "lean powerpoint" teaching both face to face and online. Our goal is for customers to become self-reliant on their lean learning journey and developing leaders as teachers is fundamental to that. We have focused our material development on problem solving as it not only supports a further two of the four capabilities highlighted by Spear, but in our opinion is the number one Lean skill to have. Solving a problem not only develops capability but provides a business benefit at the same time. Take a look at the materials we have have to offer on a range of topics here.