At the beginning of a New Year many of us define a list of things we want to accomplish over the next 12 months. Towards the end of 2014 two activities prompted me to think more deeply about what has been written on Lean Thinking. The first of these was some teaching I do on Lean Thinking as part of a masters programme. The second was a recent dialog with one of my trusted Lean senseis.
During the teaching, it struck me just how many books and articles have been written about Lean Thinking. When I became interested in the subject (almost 25 years ago) there were few sources of information. Over time each of us reads as part of our ongoing development. However with quantity there is also potential for confusion. So, the question of the vital few books to read (some of which may not be on a core reading list) is relevant whether you are a student or busy executive.
In the style of "Desert Island Discs", the radio programme broadcast on BBC Radio 4, I've selected the Lean books I'd take to be cast away on a desert island. The rationale for the choices is that each of these books is particularly useful for part(s) of the Lean Transformation Model. (For folks reading now, please note the terminology was changed from "model" to "framework" as a framework more accurately describes the questions posed.
Of course, defining the best starting point is situational – but for me I'd start by reading the classic texts. I know not everyone that is now applying Lean Thinking is in the auto industry, but understanding where Lean has come from – and the application in new product development, production operations, the supply chain and dealing with customers was so clearly explained in the Machine that Changed the World. The book is a classic and where the term Lean was first used. I'd then go on to read about the generic principles described in Lean Thinking before understanding how to problem solve – using Managing to Learn.
To help with operational improvement the choice becomes more situational (depending upon your environment.) However there are still some core texts. To understand the value stream I'd read Learning to See, to understand flow I'd read Creating Continuous Flow and for pull I'd read Creating Level Pull. If the problem called for looking at the supply chain Seeing the Whole explains the key concepts and questions to pose.
Less has been written around capability development. However the Toyota Way Fieldbook by Liker and Meier is a good start as is the very practical Training Within Industry Workbook by Graupp and Wrona.
Reading around the Lean Management System and the Leadership Behaviours required becomes potentially more tricky. In the first instance I would re-read Managing to Learn. I'd also take the opportunity to go back to some source materials by reading Taiichi Ohno's Toyota Production System, beyond large scale production book, Shingo's Study of the Toyota Production System and Deming's Out of the Crisis. However I'd also take a look at the brilliant work of Edgar Schein on the subject of Organisational Culture and Leadership. Finally I'd collect insights from Jeffrey Liker's latest book on leadership – Developing Lean Leaders at all Levels.
A number of the texts already mentioned contain basic thinking – the assumptions and mindset that underlies the entire system – and drives the transformation. This is about the basic beliefs we, as individuals have about the way the world works. These beliefs and mindset constitute the culture of the organisation. I'd add a few more books here – Kaizen Express, Lead with Respect by Michael Balle and Gemba Walks as there are some great chapters on subjects such as purpose and respect.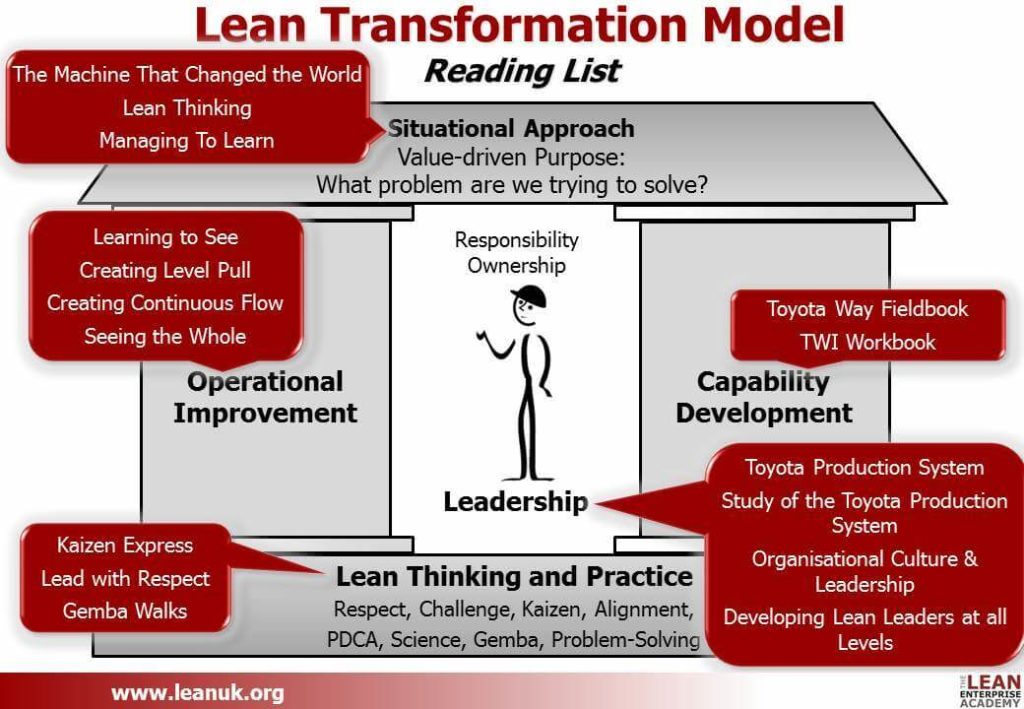 Of course such a list will always spark debate and that's where the dialog with my sensei comes in. We were discussing opinions and countermeasures. My sensei remarked that some people (whilst they would not necessarily recognise this) are "either – or" people. That is they choose one countermeasure – either A or B. It's their opinion or your opinion. Effective problem solving requires people to evaluate "both" viewpoints or multiple countermeasures. This approach always beats "either – or" thinking. 

In light of this insight my proposed Desert Island Lean Books are just a start. What would yours be? Happy New Year and happy reading!