Whilst all Lean Thinkers love to go to the gemba some work places are more enjoyable and more interesting than others. For several years I've been helping the Halfway group in its companies which include Toyota dealers and a rental company in South Africa and Botswana. Last year the group diversified into the 4×4 rental market purchasing part of Bushtrackers – the firm hires Toyota Land Cruisers and Hilux 4x4s to holiday makers travelling across Africa – be it for camping, game viewing or visiting the continent's spectacular tourist destinations and Terry O'Donoghue (Halfway's COO) hatched a plan to visit Bushtrackers' gemba. My family and I became customers. Accompanied by Terry and his wife Audrey we used the product for two weeks as we drove through Botswana from Maun, through Moremi, Savute, Linyanti and Chobe before returning back to Johannesburg.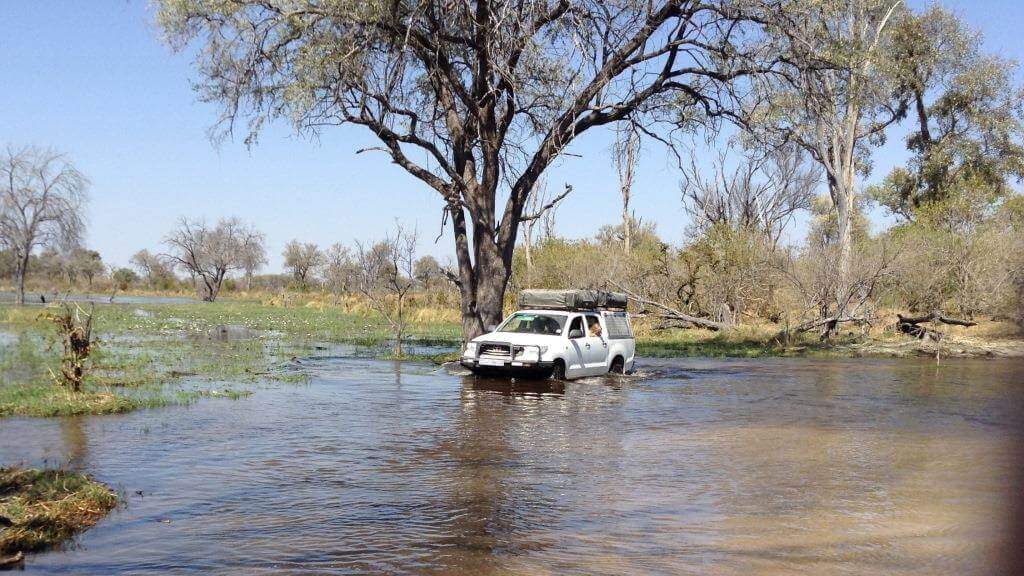 Of course this sounds like a holiday – indeed it was, ranking alongside the very best we've ever had – but Terry and I took our gemba duties very seriously! We assessed the standard work used by Gareth to hand over the vehicle. We camped for 6 consecutive nights – writing detailed feedback on the use of the vehicle, the equipment included, what we used, didn't use and what we thought should be included. We assessed how equipment was stored, how easy it was to erect the vehicle's two roof top tents and put them down again – and we applied kaizen to the whole process during and after our trip. Of course we hid most of this process from our families who participated in kaizen without realising – they certainly wouldn't have been sympathetic if they had learned of our stealth sensei activities! Back in Johannesburg we followed "our vehicle" as it was assessed, prepared and re-kitted for its next adventure and coached Gareth on a problem solving A3.
Having been surrounded by elephants in our campsite at Linyanti, visited by hyenas in the night at Savute and spent an unforgettable 45 minutes watching a leopard stalk it's evening meal you cannot help become enthralled by the animals operating in their environment. During a drive through Savute we came across three male lions lazing by a dusty road. As we observed the trio a Land Cruiser pulled alongside. The driver was part of a team working on a sequel to the BBC documentary "Africa's Giant Killers" the story of how this particular group of lions has learned to hunt elephant. On returning from our trip I learned more about the workings of a pride of lions.
In his book "The Power of the Pride," Ian Thomas explores how a pride of lions creates an effective team and discusses the lessons business leaders can learn. Ian observed lions at their gemba evaluating the development of the pride – from the training routines youngsters learn through to the workings of power, trust and respect between members in what is a flat organisational structure. He reflects that the total focus of the organisation is on clear cut and realistic goals and team members are alert to communication – no lion can ever complain that they missed the kill because they didn't receive the memo! Lions definitely learn on the gemba – you don't see them in week long boot camps run by other lions who concentrate on continuous improvement. They learn by doing – through observation and involvement.
We are always keen to hear from anyone with an interesting gemba – do you have one that's more fun than taking a Bushtrackers' vehicle to Botawana?
Also view "Coaching Leaders and Employees on the Gemba" by Michael Ballé from day 2 of our Lean Summit 2012 and "Gemba Walks: Helping Management to See" by Jim Womack from day 1 of our Lean Summit 2011