£0.00
This course teaches basic knowledge around the Purpose, Process & People of the Lean Transformation Framework originated by John Shook.
Description
Lean Transformation Framework – Skill Level 1: Knowledge Online Course
This course will give you Basic Knowledge on the Background, Purpose, Process and People aspects of the Lean Transformation Framework. You will gain knowledge about why you need to use it, the underlying thinking behind the process of using it and peoples role when using it.
In Purpose, you will learn about why the Lean Transformation Framework is so important. What questions to ask when applying Lean Thinking & Practice for your situation. It also covers why having a balanced appproach to applying Lean thinking and practice is critical.
For Process, we will explain the Key Elements to applying the Lean Transformation Framework, including; situationally applied, fractal approach for all Levels in an organisation, its Continuous Learning through asking the 5 questions and the PDCA Process to applying the LTF for your situation. In People, you will understand the roles and responsibilities around the Lean Transformation Framework and how everyone can contribute to improving the organisation.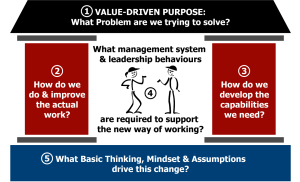 Objectives: Through completing this Skill Level 1 course you will gain the basic knowledge around the Purpose, Process & People aspects of the Lean Transformation Framework. Understand how to apply Lean thinking & Practice to your uniqie situation.
Duration: 2 hours of self-paced learning where you will completing four main teaching modules.
This is an online course only and does not include live coaching sessions.
Content: This online course is interactive and contains 4 Teach Point Videos, Example, Learning Confirmation and a Certificate of Completion.
Support Material :- This course includes Free downloads of the top of the Lean Transformation Teach Poster and a Facilitation Guide.
This product is included with our Learning Platform Subscription.