We are very excited about our Lean Summit that takes place next week. For those that haven't yet booked there are still a few places left to join 200 other Lean Thinkers. To see what you may miss out on and why you should participate here is a brief outline of the event.
The theme for the UK Lean Summit 2015 is Developing the Capability to do the Work. The purposes of our annual Summit are:
To raise consciousness of the latest developments in Lean Thinking
To provide insight into practical ways to get started, deepen or enhance your Lean journey
To enable participants to build their own network of Lean Thinkers
We have therefore designed the programme to include eight two-hour Learning Sessions. Each Learning Session showcases a key element of Lean Transformation and will be led by exceptional leaders and coaches with deep experience in the subject area.

The Learning sessions range from Keith Edwards and Ian Hurst from Toyota explaining how their organization develops and uses standardized work to Cliff Hazel form Spotify discussing how the organization develops leadership capability and Dan Markovitz (author of "A Factory of One") explaining how to apply Lean principles to yourself. Each Learning Session will be run twice so that participants will be able to attend four of the eight sessions. A full list of learning sessions is outlined below: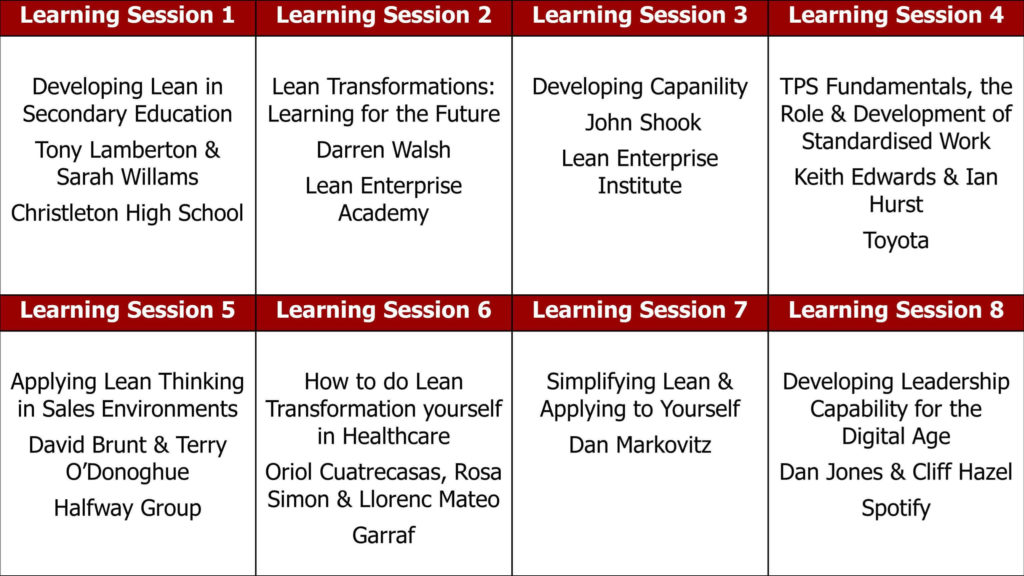 As for networking, the delegate list is as strong as ever too. We have Lean Thinkers from 22 different countries attending. There is also a diverse range of sectors represented with 50% of attendees coming from the public sector, engineering/manufacturing, automotive and media. There is again a great mix of roles – split between line management and improvement roles with high levels of senior management attendance.
So, whether you are a senior executive involved in running an organisation, leading or part of an internal transformation process or even wanting to get started with your team attending the event will provide you with insight and the networking opportunities to enable you to plan and implement your own Lean Transformation. We look forward to seeing you there!