The Lean Enterprise Academy is a not for profit organisation. Our aim is to develop and disseminate knowledge of lean thinking and lean practice.
We help individuals and organisations understand and use lean thinking. We do this by helping you define and address gaps in performance that need to be closed, developing both your capability to improve the flow of value to your customers and the problem solving ability of your people so that you can sustain the gains and continuously improve.
We have worked with pioneers on all kinds of business problems, big and small, in almost every type of organisation and activity and lean thinking has always helped unlock levels of performance that weren't possible through traditional management approaches. Ongoing performance improvement is only possible if you capture and build on the knowledge gained from implementation – so the focus of our work is to help build your internal capability to make the changes and sustain them yourselves.
Our unique perspective is that we continuously seek to learn what the most effective mechanisms are for transferring this lean knowledge and developing lean capability – so together we can create more value, right first time, on time, in less time.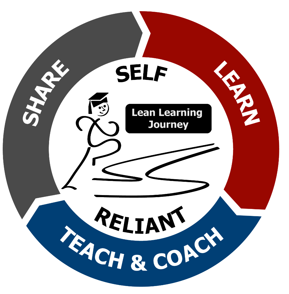 We do this through a number of mechanisms structured around three core processes:
Learn: In our Action Research with organisations we develop hypotheses about Lean Thinking and its application and conduct research to see what works best in the real world. This approach helps the organizations we work with build a competitive advantage as together we simultaneously close performance gaps in the organisation whilst developing new knowledge of lean thinking and its application.
Teach & Coach: We use our action research to develop education in Lean Thinking. For example, we have written and published a number of books designed to help organisations and individuals implement Lean. In addition we have developed education processes such as in-house and public workshops around core publications and our research findings. Using our education materials helps companies quickly get to grips with workbook contents and helps develop core lean skills.
Share: We distill the lessons learned from all our activities. Each year we reach out to our lean community to organize events such our Lean Summit as well as publishing regular web based articles, videos on the Lean Enterprise Academy YouTube channel and sharing via social media.