Many organisations and business leaders that practice Lean thinking make the mistake that Lean transformation and business improvement is all about running training sessions and improvement projects / events. If this was the case, we should be seeing many more world class businesses by now that always delivered exactly what the customer wanted when they wanted.
Instead most businesses still face a number of common challenges. Familiar examples include:
Making time for improvement
Sustaining improvement
Patchy activity or pockets of improvement throughout the business
Management support to improving the business
Low overall business impact from improvement activity
To address these and a number of other common issues, we've developed a series of workshops around the Lean Transformation Framework (click here for the video).
The first of our 5 sessions explores how organisations can define purpose – and align their organisational improvement efforts to their purpose. A key part of this approach involves understanding the business problem(s) we are trying to solve and defining purpose in two dimensions: Firstly, customer purpose – by asking "What do your customers want that you are not currently able to supply?" And secondly organisational purpose – by asking "What does your organisation need to survive and even to prosper?"
As each company's circumstances are unique we need a situational approach to Lean transformation. However the distinctive feature about Lean is that implementation begins by thinking back from the perspective of value to the customer. Our first session called "Value Driven Purpose" (about the roof of the house in John Shook's Lean Transformation Framework) helps us to identify and address the real gaps within our purpose, capability, performance and our ability to manage change.
This aspect is key as the effectiveness of your Lean transformation approach is critical as it impacts: speed of change, achieving our goals and objectives, sustaining improvement and developing long term improvement capability.
Further details of the workshop are outlined below.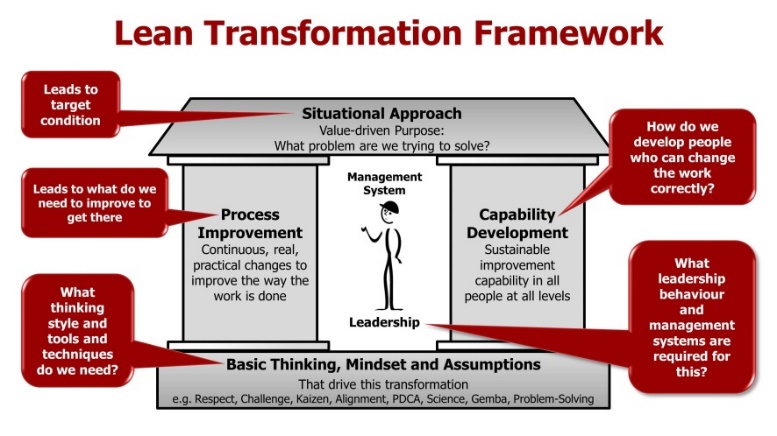 Workshop Logistics:
The workshop is designed for: leaders, managers, supervisor or Lean practitioners wanting to start or enhance their Lean journeys. The public workshop will be run over 5 Days and will be run at our office in Goodrich, Ross-on-Wye.
Dates: 28th September to the 2nd October & 14th to 18th December (early booking is highly recommended)
The purpose of this workshop is:
To provide a framework for Lean Transformation
To explore the five areas of the Lean Transformation Framework
To develop organisational / team purpose
To define the problem we are trying to solve and how it links to organisational purpose
To develop personal and team action plans
Topics that will be examined include:
Developing organizational purpose and defining the Problem
Steps and activities organizations can take to improve the actual work
Building organizational capability for Lean
Understanding the leadership behaviours required to lead and support Lean transformation
The basic thinking, mind-set and assumptions comprising culture
Workshop Benefits
Through instruction, small group discussions, exercises and video workshop participants will:
Learn about the key elements of a successful Lean transformation
Learn how to develop organisational purpose
Learn how to define the gaps and the business problems that impede Lean Transformation and Developing Capability to Improve the Work
Discuss and reflect on how to go beyond where they are now – to close the next set of gaps in the organization