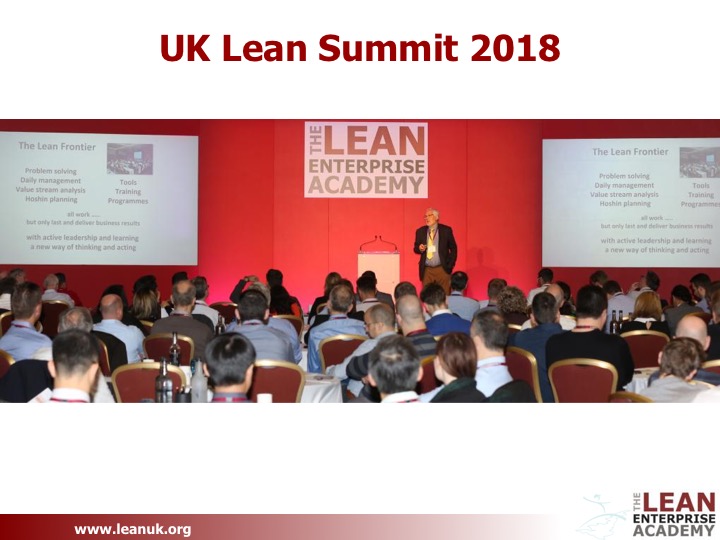 As part of our mission to help organisations with their Lean journeys the Lean Enterprise Academy held its annual UK Lean Summit at MacDonald Manchester Hotel & Spa, UK.
The purpose of the Summit is as follows:
To raise consciousness of the latest developments in Lean Thinking and Practice
To provide insight into practical ways to get started, deepen or enhance your Lean journey
To enable participants to build their own network of Lean Thinkers
We do this by:
Bringing together the best Lean practitioners and sensei in the Lean world for participants to learn from.
Building time into the programme for participants to network.
Providing a variety of learning situations – including pre-Summit workshops on leading edge topics, keynote talks, interactive learning sessions and panel discussions.
Enabling groups from the same organisations to come to the Summit to learn together.
10 Key questions for this year's UK Lean Summit
What is Lean Strategy?
What is the work of management in a Lean environment?
How can we use Lean Thinking to design and build better products for customers?
What are the best ways to learn Lean?
What are the common factors to a successful Lean transformation?
How can organisations and Lean pratitioners embrace the digital World?
How do Lean organisations develop capability?
What is the Lean approach to problem solving?
How are different organisations going about implementing Lean Thinking and Practice?
What can we learn from applying Lean across the economy? Examples from manufacturing, retail, service, on-line and the public sector.
This is a unique opportunity for the Lean Enterprise Academy's community to come together.
**Click the headings below to expand the section **
Registration Fees
The following fees include attendance to the UK Lean Summit 2018 on Wednesday 18th and Thursday 19th April, coffee / tea breaks, lunch, and all summit sessions plus Networking Reception, which includes dinner, on Wednesday 18th April 2018.
Public Sector: £800.00 – Government Funded
Private: £1,050.00
Optional Pre-Summit Masterclasses
The following fees include coffee / tea breaks, lunch, one Masterclass session on Tuesday 17th April 2018, Drinks and Canapés.
Public Sector: £400.00 – Government Funded
Private: £425.00 – Excluding Consultants
Consultants: £450.00
Note: Prices are exclusive of VAT
Why attend the Summit?
Here's what previous attendees of the event told us:
World class content
Extremely engaging and thought provoking
Lots of transferable learning on engagement
Very good mix of practical examples, learning and experience
A great opportunity to measure yourself and your experience against others
Enriching experience to develop understanding of Lean above the level of tools
Best place to learn about what Lean really means
High quality speakers and networking