The Lean Enterprise Academy has just won three Shingo Awards in recognition of its pioneering work in implementing lean thinking.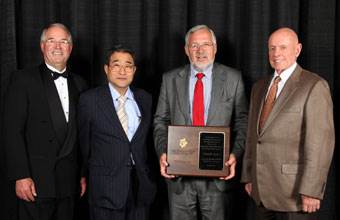 At the Shingo Prize Awards Conference in Salt Lake City, USA on 20 May 2010 Daniel Jones was inducted into the Shingo Academy. The Shingo Academy consists of individuals who have distinguished themselves through their lifetime commitment and achievements in the area of Lean/Operational Excellence. Danielhas previously won four Shingo Awards for his books on lean.
Ian Glenday received the Research and Professional Publication Award for his book Breaking Through to Flow, which opens up a practical path to lean for the consumer goods and process industries.
Dave Brunt and John Kiff also won the same Award for their book Creating Lean Dealers, which shows how lean can transform sales and service activities. Both of these books have inspired pioneering organisations to new levels of performance.