£24.99
This is a video recording of our Standardised Work webinar. Included is access to a video of the webinar, a copy of the presentation slides, a transcript of the webinar, our Standardised Work Teach Poster and the GAP assessment sheet presented during the webinar.
Description
Standardised Work On-Demand Webinar
Standardised Work – The Foundation for Improvement
The webinar will help you learn about Lean Standardised Work in terms of "Purpose", "Process" and "People." Most importantly you will grow your knowledge of Standardised Work. First, through a teach session & Q & A, then a fun practical exercise and thirdly through reviewing a real-life implementation example.
Establishing standardised processes is fundamental to creating consistent performance. Therefore only when a process is stable you can begin the journey of continuous improvement. The webinar will help you learn about standardised work in terms of "Purpose", "Process" & "People".
Using our visual Teach Poster we explain how organisations can apply "Standardised Work" successfully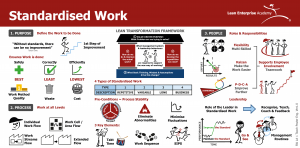 The webinar covers the following key points:
Why the "work to be done" should be defined in terms of safety, quality and efficiency.
Benefits achieved through standardising the work.
The 4 types of Standardised Work and the necessary pre-conditions required.
The 3 Key Elements that need to be considered when implementing Standardised Work.
What organisation roles & responsibilities need defining for successful standardised work.
Material included:
An on-demand version of the webinar
A copy of the slides from the Presentation
A transcript from the webinar
The Lean Management System – Performance Teach Poster
A Facilitation Guide
Standardised Work Exercise Sheets
Session Breakdown:
Introduction/Welcome
The Teach Poster Concept
Standardised Work
Purpose
Process
People
Q & A
The Importance of Standardised Work – Participant Exercise
Implementation Examples of Standardised Work
Learning Standardised Work
Summary Discussion / Q & A
This product is included with our Learning Platform Subscription.