£24.99
This is a video recording of our Rapid Problem Solving webinar. Included is access to a video of the webinar, a copy of the presentation slides, a transcript of the webinar, our Rapid Problem Solving Teach Poster & supporting facilitation guide, and more.
Description
Rapid Problem Solving On-Demand Webinar
In this on-demand webinar, you will learn about problem solving in terms of "Purpose", "Process" and "People." In addition, participants will gain an overview of the 4 step methodology. Lastly, we will review a Rapid Problem Solving Quadrant Chart  Case Study.
So, using the right problem solving methods for the different types of problems is key to engaging everyone. Therefore, people can identify and solve problems with their daily work.
See how Rapid Problem Solving can be used by Team Leaders and Team members to scientifically solve the numerous "day to day" less complex problems they encounter. (rather than jumping to solutions!)
Using our visual Teach Poster we explain the Purpose, Process & People of Rapid Problem Solving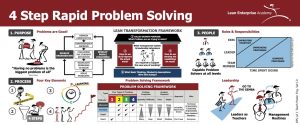 An on-demand version of the webinar
A copy of the slides from the Presentation
A transcript from the webinar
Rapid Problem Solving Teach Poster
Rapid Problem Solving Teach Poster Facilitation Guide
Evaluation Exercise Materials
Session Breakdown:
Introduction/Welcome
The Teach Poster Concept
Problem Solving: Introduction, Purpose, Process & People
Questions & Answers
Overview of the 4 Steps
Rapid Problem Solving Quadrant Chart
Lean Learning Journey for Rapid Problem Solving
Summary
Questions & Answers