The Lean Enterprise Academy (L.E.A), UK are collaborating with the Lean Enterprise Institute (L.E.I), USA to bring Manchester a series of 8 workshops between 27-29 March 2016.

Over 3 Days we are offering workshops that provide the foundations to implement a successful Lean transformation, with crucial insights into developing your internal capabilities whilst improving the work.
The workshops will bring you practical examples, case studies, some Gemba based (on-site) learning along with some classroom education with instruction, small group discussions and exercises.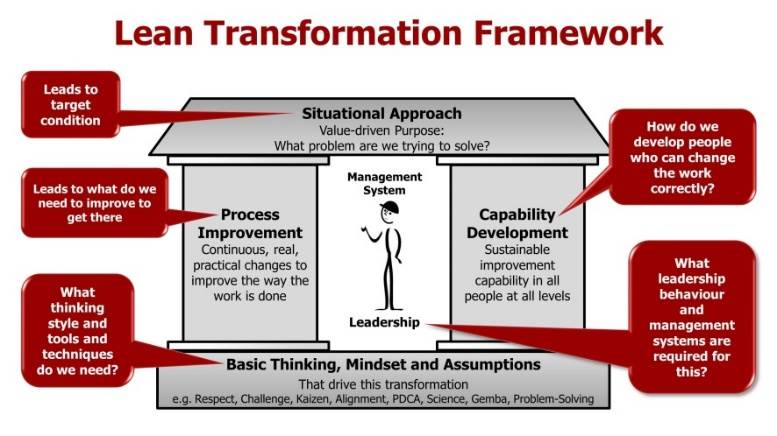 Monday 27th March
Key Concepts of Lean (2 Day Class)

This workshop will demonstrate how building the culture of continuous improvement depends on the alignment between three "P's": Purpose-Process-People. You will look into the process for formulating and deploying an organizational strategy aimed at delivering maximum value to the customer, discus the importance of making visible the horizontal flow of value to the customer, and learn about the critical importance of developing employee problem solving capabilities at all levels.

Leading in a Continuous Improvement Culture: Engaging and Coaching Problem Solving Thinkers (2 Day Class)

Are you a mid-level manager or leader in an organization that is focusing on employee engagement to develop a continuous improvement culture? Are you wondering about your role and how you can contribute in this new management environment? Though it may not have been said you are critical to the success to the transition to a continuous improvement culture in your company.
This program is designed to describe the new role you can play as a leader in a program solving culture. It will introduce skills that will help you be effective in that role and give you opportunities to practice them.

Introduction to Lean Leadership (1 Day Class)

The purpose of this workshop is to help leaders develop organisational and individual capabilities to sustain and expand Lean transformation. The workshop is designed to:
Articulate and engage leaders in understanding the fundamentals of Lean thinking and Lean transformation process, and their role in taking an organisation to the next level of performance.
Engage leaders in thinking about their business problem situation and their role in addressing it.

Tuesday 28th March
Strategy Deployment and Alignment through Hoshin (2 Day Class)

This workshop will help leaders understand Hoshin Planning as a core process for defining and creating annual objectives and developing people based on those objectives.
This workshop will also clarify how Hoshin Planning (also referred to as strategy deployment) can be utilized to define a clear strategic framework that can strengthen an organization through enabling sustained high performance and produces long-term results.
Finally, this workshop will clarify the relationship of hoshin planning (which functions like the skeleton) to A3 problem solving(which functions like the muscle).

Wednesday 29th March
Gemba Walks: A Management Process for Leading the Organisation (1 Day Class)

Held offsite at Quantum Profile Systems Limited, Salmon Fields, Oldham, OL2 6JG, UK
One of the core skills of Lean practitioners at any level is an ability to apply – in a disciplined way – the scientific method of PDCA (plan-do-check-act) in order to solve organisational problems that affect the value-creating process. The reason we refer to the PDCA process as "scientific" is that it requires an in-depth understanding of the root causes of every problem which can only be achieved through direct observation of work processes and fact-based information that comes from people who work in these processes.
So let's stop analysing numerous bits of data on our computer screens. Let's put on hold heated discussions about the best way to solve a problem that we've been having in conference room for hours. Instead, let's go to the gemba and SEE what is going on there.

Creating Lean Learning Experiences (1 Day Class)

For the last couple of years we've been researching how to create "Lean Learning Experiences" – asking the question "what does it take to get each person we interact with to 'understand' think Lean and then actively take part in implementing improvements?" And "what would it take to develop a plan for each individual with the aim of implementing Lean right first time, on time – whilst increasingly deepening each individual's learning and knowledge?
We will share the research and walk people through the process we've been using to create a series of "Lean Learning Experiences" and discuss the benefits of such an approach for both organisations and individuals

TWI Problem Solving (1 Day Class)

Over decades of use, the techniques from Training Within Industry (TWI) have proven useful to team leaders in managing their teams to do and improve their WORK, effectively. In this workshop, participants will be introduced to these techniques and practice using them. They will also explore how the underlying concepts apply to all WORK, at all levels of an organization
Join us for the opportunity to expand your Lean knowledge and network with others facing similar challenges, learning the principles, tools and techniques to help you make a step change in business performance.