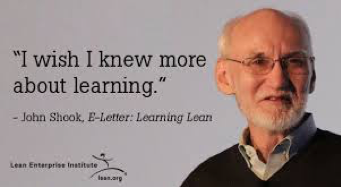 Workshop Introduction
John Shook first shared the Lean Transformation Framework (the questions we use to guide and evaluate Lean Thinking and Practice in organisations) in 2014. Since that time, we've conducted multiple experiments and conducted lots of continuous improvement to the process.
The purpose of the workshop is to explore each of the five areas of the framework – facilitating discussion around the obstacles required to close gaps between each organisation's current state and the proposed target condition and updating participants on the latest thinking and research in this area.
Explore the components of the Lean Transformation Framework, see examples of what others are doing and reflect on some potential gaps to close within your organization.
Objectives
The purpose of this workshop is:
To provide a framework for Lean Transformation.
To learn the five dimensions of the Lean Transformation Framework.
To explore the use of triads in the framework (to help articulate the current and future states of your Lean Thinking efforts.)
To develop personal and team action plans for when we go back to work.
Topics that will be examined include:
Developing organizational purpose.
Steps and activities organizations can take to improve the actual work.
Building organizational capability for lean.
Understanding the leadership behaviours required to lead and support lean transformation.
The basic thinking, mindset and assumptions comprising culture.
Failure Mode Effects Analysis of Lean transformation.
Workshop Benefits
Through instruction, small group discussions, exercises and video workshop participants will:
Learn about the key elements of a successful lean transformation.
Discuss and reflect on how to go beyond where they are now – to close the next set of gaps in the organization.
Related Books
Who Should Attend?
Leaders, management teams, lean practitioners and lean teams wanting to accelerate and improve the quality of their lean implementations.
Supervisory and support staff wanting to learn how to refine their Lean Transformation plans for their team or department
Lean practitioners wanting to learn how to improve the effectiveness of their efforts.
Leaders & Management teams wanting to understand their role in helping to sustain and accelerate continuous improvement throughout their organisation.
Organisations at any stage in a Lean transformation that are struggling with:

Failures to sustain the results from past improvement effort
Overcoming some of the barriers to continuous improvement
Past improvement effort not impacting business performance
Deciding on whether to establish an improvement team
Developing further improvement capability
Notes
Attendance – 1 Day Course
Class size – Maximum 20 people per day
Timings – Each day will run from 09:00 – 17:00
Cost:


Public Sector: £400.00 – Government Funded
Private: £425.00

Note: Prices are exclusive of VAT
Materials – A PDF copy of the materials will be available via the Lean Enterprise Academy website
Facilities** – Refreshments and lunches will be provided by LEA
*Please note prices exclude VAT at the standard rate of 20%
We can also run these workshops in-house at your convenience, if you would like to explore this option please contact us at [email protected] or call +44 (0)1600 890590
Follow up (optional)
LEA provides an ongoing mentoring service for organisations involved in making Lean transformations. Lean Transformation Master Plans, supporting A3s & VSM's developed by the organisation can be reviewed at 30/60/90 intervals. This provides the organisation with help and direction in sustaining the learning from the workshop process and helps highlight further learning opportunities that can be pulled, as and when required, by the organisation.
Other workshops available – please visit our events page for more details
The lessons learnt during this workshop give an overview of the entire Lean Transformation Framework