As Lean Leaders, we often question whether we have an environment which encourages Lean leadership capability and behaviours to engage and develop people. Peter Watkins and the team at GKN have been asking themselves just this question. And the honest answer they came up with was, no. And this was despite an extensive leadership program disseminating Lean leadership training throughout the organisation, focusing on the core skills and developing Lean support structures.
Through a process of deep reflection, they found a number of barriers preventing the development of true Lean leadership. A lack of stability meant leaders spent too much time fire-fighting, that their roles in a Lean system were not well understood, that the traditional management system encouraged the wrong behaviours through learning by 'telling' rather than learning 'by doing' and an absence of Lean coaches. More scarily perhaps, they discovered that there was no defined, clear management system – Lean or otherwise. Sound familiar? So they set about developing one, one with thinking and acting with Lean principles in mind.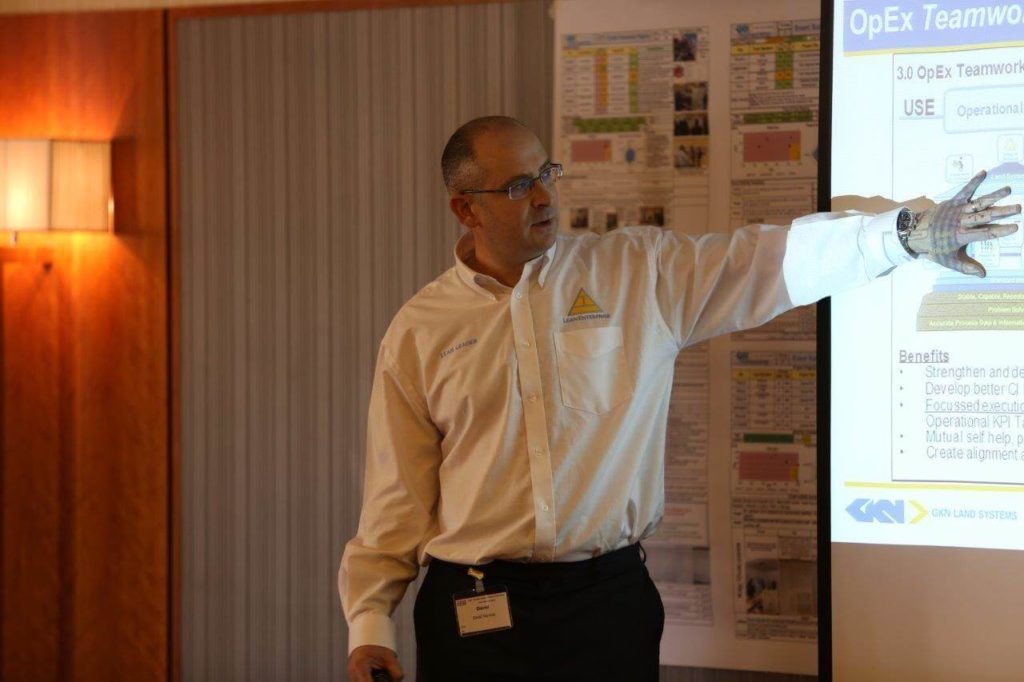 The 'aha' moment was getting management to realise that leadership and the development of people capability are processes in their own right. To lead, there must a structure and a routine with a clear framework of the questions and tasks for each leader. These tasks needed to be thought about, their purpose and activities written down with a way of checking performance – a PDCA cycle for leadership.
To start with, they posed 4 basic Lean management questions:-
1 How did we do yesterday?
2 What's the plan for today?
3 What's the status of our actions?
4 What are the key issues for tomorrow?
Knowing the answer to these questions is key to knowing if you are winning or losing on a daily basis. Leaders across the business were challenged to design a daily management control process and routines to allow them and the team to answer these questions.
Starting at executive level, all leadership activities were defined and written down – from daily control activities through to strategic planning – across all management functions. Here they were able to prioritise the important actions, what the desired outcomes are and how to measure effectiveness, eliminating those that served no purpose. At Executive and Senior levels, this included a specific process for people development with clear, minimum expectations for each leader as to their daily, weekly and monthly activities. This even included standard work for a 'Go and see' review process.
The leaders also needed education on how their roles change in this new Lean system. Here, the switch was to recognise that it is the people responsible for the process, the team and team-leaders, who are principally responsible for its maintenance and improvement. Higher up the Lean management hierarchy, the management task should focus more on checking and acting on the people development processes, coaching and challenging. They now use a system of A3 Thinking at higher management levels to visualise whether the strategic and people development routines are being followed and to highlight and solve gaps in performance.
This has been large undertaking but a significant step towards building-in a coaching and PDCA approach into the fabric of an organisation. The challenge set by Peter is, can we honestly say we know what our system of management is, can we write it down and does it support a Lean culture?