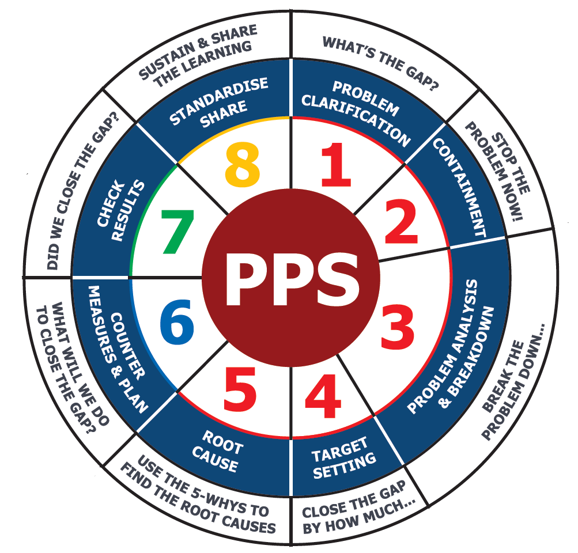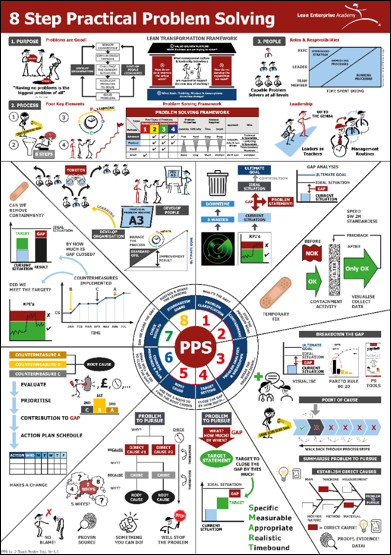 A3 Practical Problem Solving – Step 8 Standardise & Share
The video is presented by Peter Watkins a Senior Coach at LEA , who explains the key points using a Visual Teach Poster.
The top half of our Teach Poster focuses on the Purpose, Process & People of Practical Problem Solving. This is covered in our FREE Skill Level 1 course on A3 Practical Problem Solving – ACCESS HERE
This blog series concentrates on the lower half of the Visual Teach Poster , which covers the 8 step method based on Toyota Business Practice.
Play the Video Overview for A3 Practical Problem Solving – Step 8 Standardise & Share
Video played best when watching in Full Screen Mode
Key Learning Points from the Video
How do you Standardise & Share ?

Example of Step 8- Standardise & Share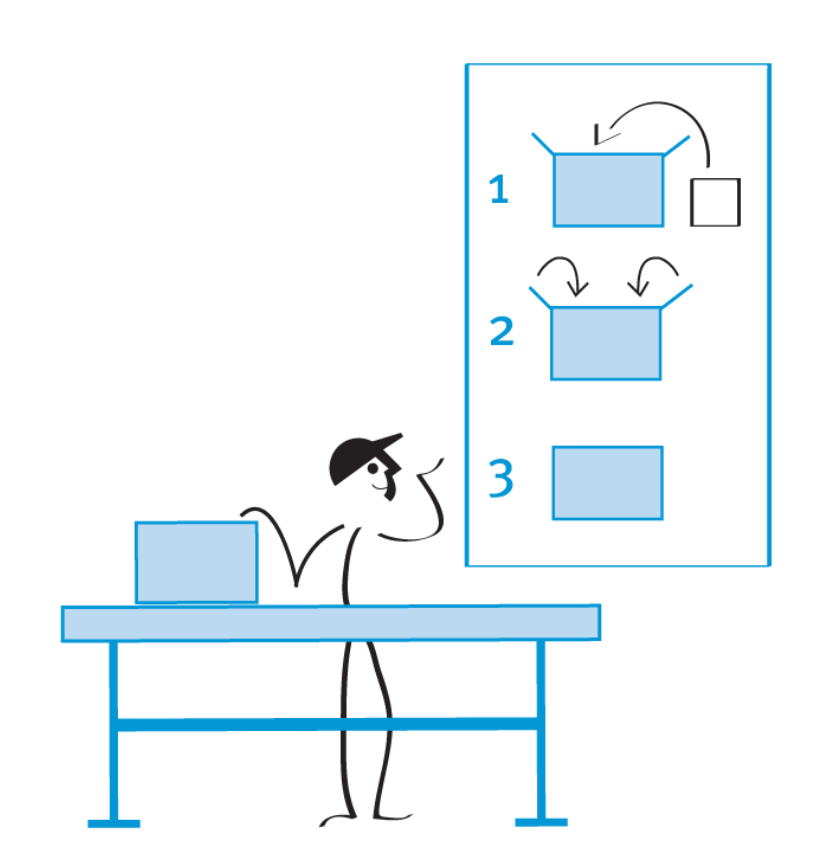 Make Standards Visible
Create Standard Work so it can be used to establish the new base line from which you can build
Periodic process checks should be used to help maintain and review for problems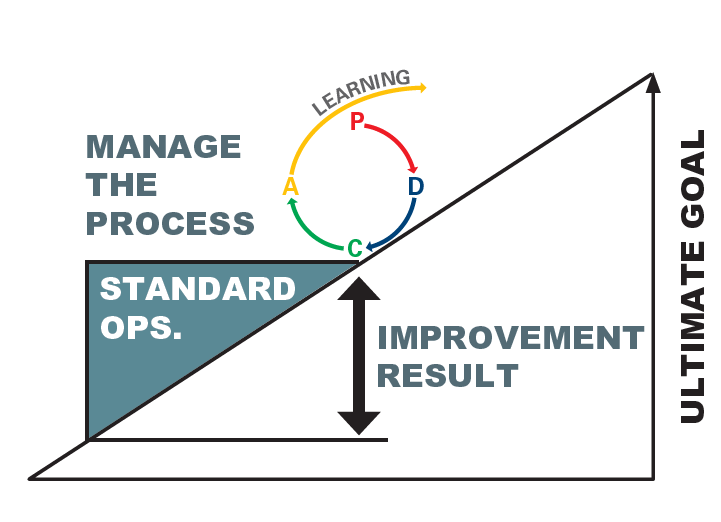 When developing a new standard or updating a current one we need to answer YES to 4 basic questions;
Is there a documented standard ?
Is the standard clear ?
Has the standard been trained ?
Is the standard being followed ?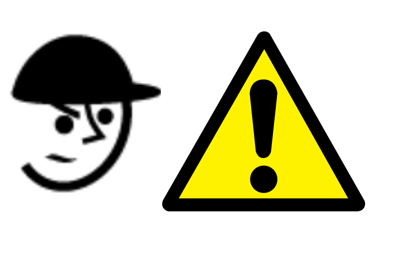 We all should take Personal Responsibility to Share out Learnings from Problem Solving
A lot of hard work and effort has gone into solving a problem
If we don't share with others it disrespect's those who could benefit from the learnings.
If we don't put effort into sharing we miss the opportunity to develop other peoples thinking way.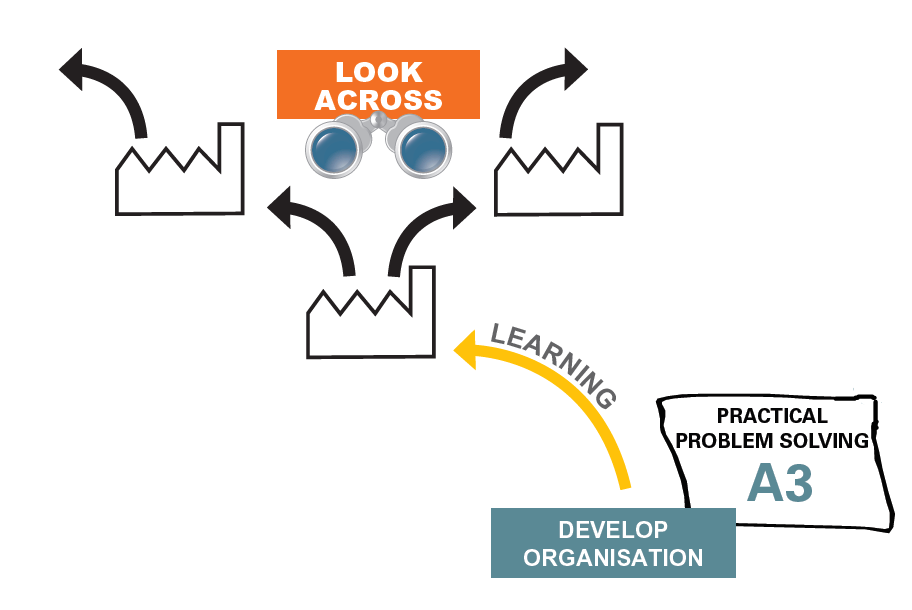 Where else can you share this learning which could benefit the organisation both internally & externally
Develop the organisation by accelerating the benefits from problem solving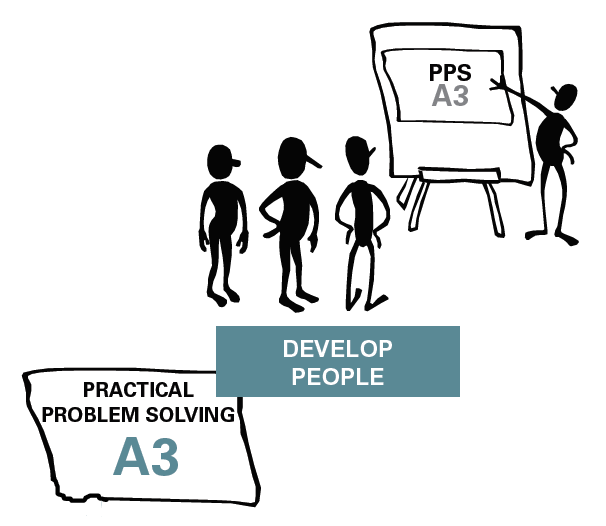 How can we use the learning to develop people's knowledge within the organisation
Need to think and plan carefully the why, what, who, where, when and how of sharing the Learnings (5W's & 2H's)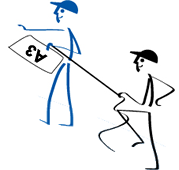 By solving problems we develop as an organisation becoming wiser & better at what it does
By developing people on real problems you will create a learning culture through teaching & coaching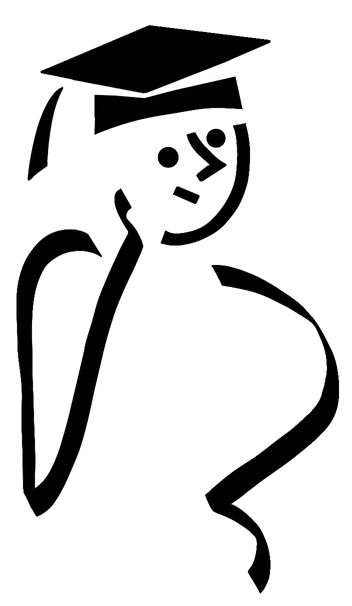 When completing any round of Problem Solving we should all ways ask ourselves :-
What did we Learn ?
Critical Self Reflection and or / Feedback is needed to improve your skills for next time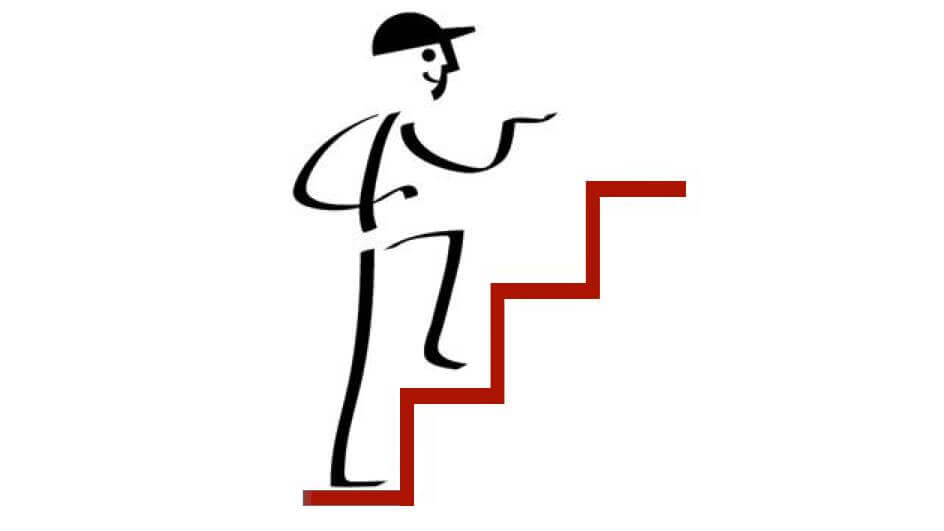 Your work is a repeating cycle of Problem Solving.
Start the next step towards your Ideal State or Ultimate Goal when you have solved one problem
A3 Practical Problem Solving – Step 8 Standardise & Share
Helpful hints on this step:-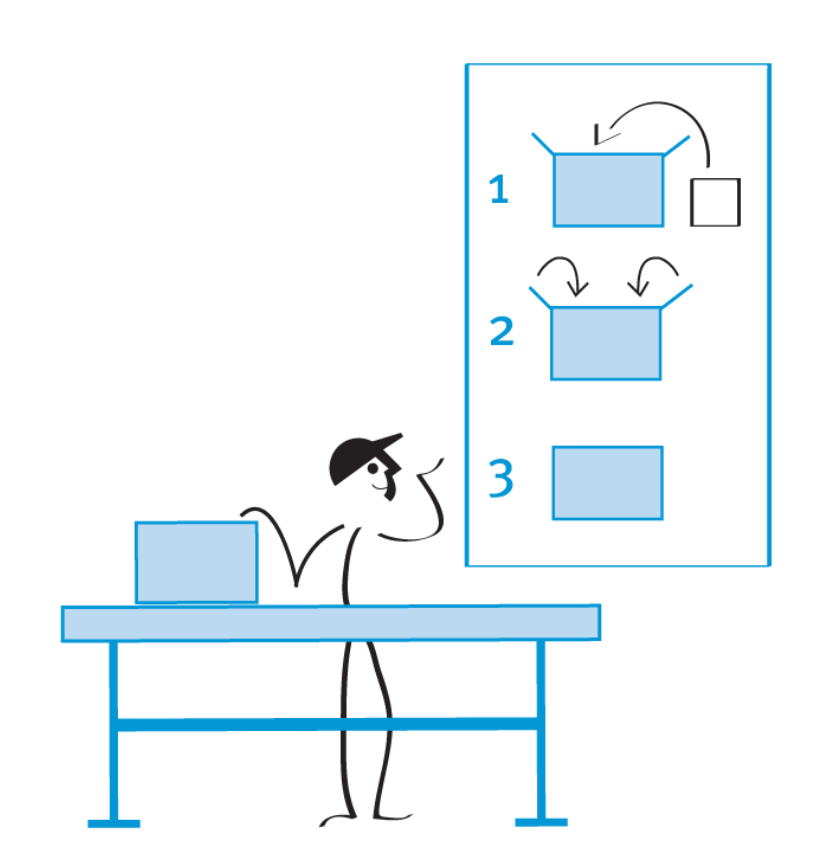 After positive countermeasure implementation you need to ensure the changes made don't revert back or cause other problems
Make sure responsibilities for creating / updating process standards are clear and done with the people doing the work
Make Work Standards Visible
Ensure management routines verify and check that standard are maintained and improved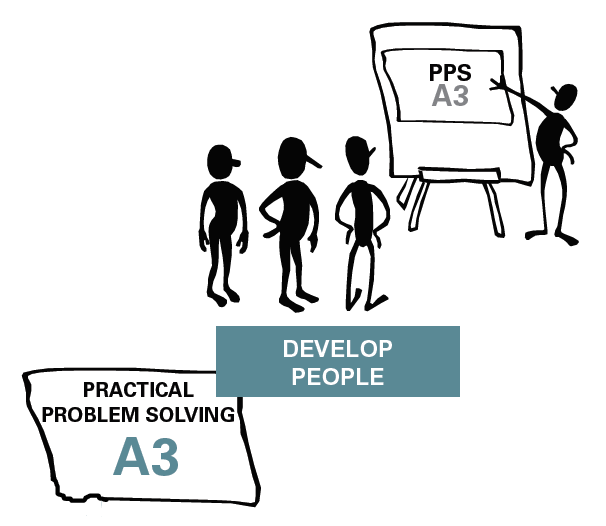 Ensure YOU take personal responsibility to share out the learning from Problem Solving
It is key to developing others peoples thinking and problem solving capability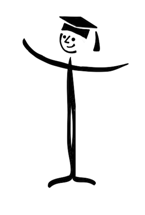 Put time and real effort into sharing the learnings – develop a robust plan using 5ws & 2 h to ensure good thinking
Grow the organisations knowledge through sharing problems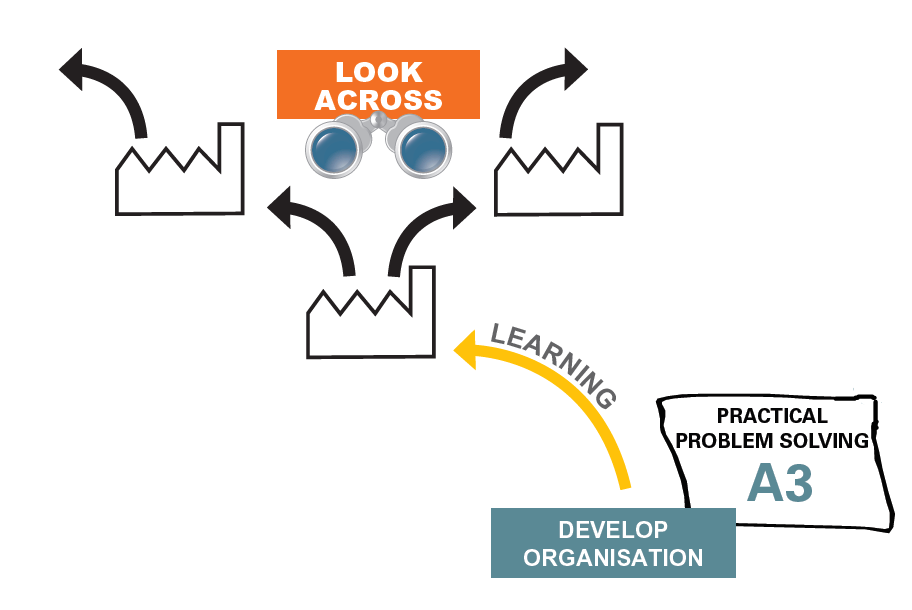 Effective knowledge sharing using A3 's will accelerate an organisations improvement culture
Make sure you have robustly defined methods & process for sharing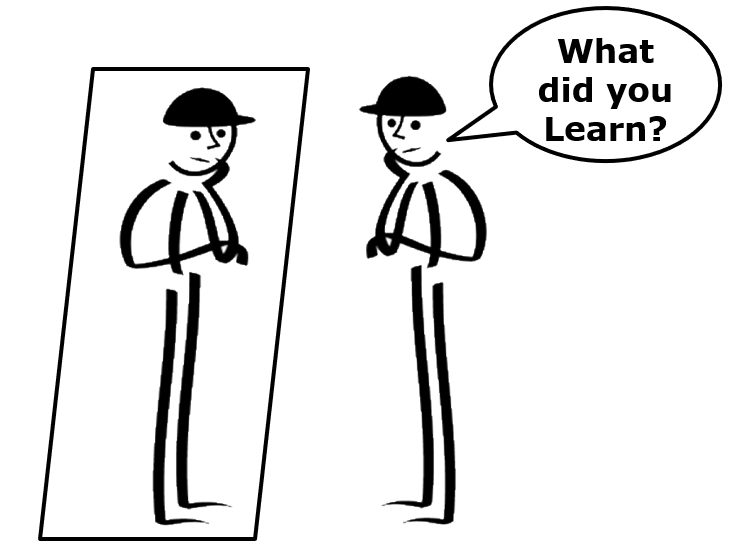 Do some "Critical Self Reflection" and get feedback to improve your skills for next time
Think About :-
What mistakes did you make ?
How good were you at following the 8 Steps thinking way?
How well did you work with other to solve problem?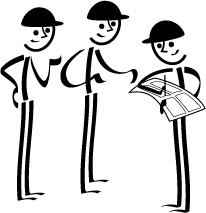 It takes a lot of practice to understand and improve your skill of applying 8 step thinking way.
Remember this is about learning the 8 step scientific "thinking way" to solve a problem – don't get caught in a A3 form "box filling" trap!
---
A3 Practical Problem Solving – Step 8 Standardise & Share
Related Courses and Recommended Reading
We have gathered together some links below for selected courses, books and articles if you want to learn more about A3 Problem Solving.